Roll Off Dumpster Services
Roll Off Service Dumpster Rental Residential
Greenleaf Recycling has everyday solutions for your needs.
We provide a variety of services including:
Dumpster Rental for updating
When you're in the process of changing your home or office and you need to get rid of waste, chances are you will create a big mess. These types of changes can range from remodeling a room, pulling up carpet or other major jobs you encounter to have a cleaner and nicer looking place.

If you're looking to do such jobs, save yourself the time and trouble of lugging your garbage to the dump or curbside. Please call Greenleaf Recycling and we'll get the job done
Residential Cleaning
One of our specialties includes everyday cleaning or residential cleanups. At Greenleaf Recycling, our dumpsters easily fits hefty materials from roofing projects, in home clean outs, landscaping/gardening, small demolitions, tree trimming and other general projects.

Our roll off dumpsters are available to suit your needs. However, please keep in mind that we are not able to accept various types of hazardous materials. This is mandated through federal, state and local regulations or laws.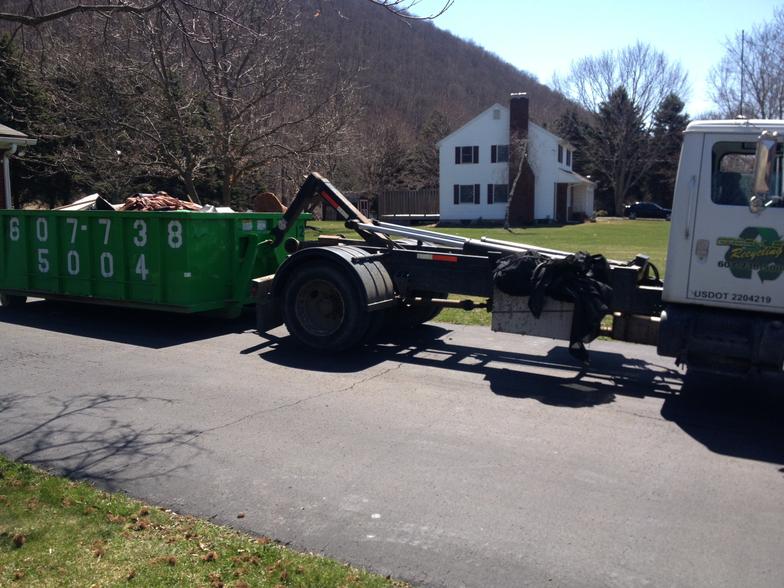 If you cannot decipher whether your waste is or isn't acceptable, please contact our office for assistance.

We're Here to Help!

Greenleaf Recycling can supply you with a number of great services. Our dumpsters are great for projects like:
Clean Sweep: Seasonal Cleaning
Found Space: Attic or Basement Clean outs
Fresh Start: Moving Clean outs
Our dumpsters are sized to meet you needs.

Whenever you're ready to do some cleaning and waste removal, give us a call. No job is too small or too big for Greenleaf Recycling. We'll be ready to help give your residential space an easy makeover by clearing out the things you no longer want or need!
Roll Off Service Dumpster Rental Commercial
Regardless of the size and nature of your project, Greenleaf Recycling has the right size dumpster for you. We can help you find the perfect dumpster for cleanup jobs inside commercial spaces like restaurants, hospitals, grocery stores, gas stations and several other businesses. Our simple commercial dumpsters are affordable and convenient.

If you're in the process of doing big or small jobs inside commercial spaces, please contact us today and we will help you get the job done. Our dumpsters are equipped to assist you with these types of projects and you'll save money while doing it.

We provide a variety of services including:
Greenleaf Recycling prides ourselves on the affordable rolloff service dumpsters that are easy to use. Our clean and efficient dumpsters are suitable for a wide variety of cleaning jobs for establishments that are working on tidying up their store fronts or overall appearances.

Helping with commercial cleaning is a job that Greenleaf Recycling can only do with your help. We are available to get rid of your waste but there are items we are not permitted to take by law. You are strongly encouraged to familiarize yourself with the hazardous items we're restricted to dispose of.

Please contact us today to help you decide if your material is acceptable or not.

We're here to help!

Below are a couple of specific projects are have helped our customers with in the past:
Construction
Demolition
Renovating
Readily available, we have dumpster sizes that will meet your individual need.

Give us a call when you're ready to tackle your commercial cleaning and we'll supply you with the proper dumpster.